Asia Grow Logistics Group was established in 2002, with its head office in Jakarta, Indonesia. Within the same time, we had also set up offices in Surabaya and Semarang and established our dominance in the three cities with a great vision and mission "to offer and provide services in area where we are strong".
Asia Grow Logistics Group has working relationships with major role players in the freight forwarding industry on a global basis. The company is able to offer International Freight Forwarding, Customs Clearing, Warehousing, Import and Export of a wide range of products and Freight Distribution services Nationally. We maintain good business relationships with a number of companies in the industry we operate in.
Asia Grow Logistics Group is fast becoming successful and is well represented in major Indonesian Ports and Cities Globally.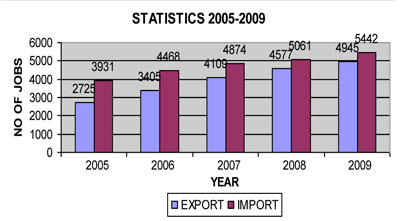 Because the founder of Asia Grow Logistics Group and the management of the company, are more than eighteen years of experience in the industry, are directly involved in the operations of the company.
We do not claim to offer services to and from every corner of the globe. We will only concentrate on offering services in area where we are strong.
Our staffs, are the partners who work with us, have the same strict credentials conducted with integrity, good ethics and in a professional manner.
With our experience on local market conditions together with international agency networks, we will always ensure our clients that their logistics needs will endure minimum costs coupled with maximum efficiency.
We always strive for accuracy and efficiency.
We realize the importance of communicating with our clients and our employees are aware that it is part of our culture.
PT. CARTER LINTAS INTERNUSA

Ruko Kesehatan No.60
Jl. Tanah Abang IV, Jakarta 10160 - INDONESIA
Phone:
+62 21 3513081
Fax:
+62 21 386 4517
Established:
2004
Number of staff:
6
Line of Business:
Inter-island Transport

PT. ARJAKA INDOTRANS

Gudang CFS Nusantara II (Perca)
Jl. Nusantara II No.2, Tanjung Priok, Jakarta, INDONESIA
Phone:
+62 21 4390 7087 / 9126572
Established:
2003
Number of staff:
58
Line of Business:
Customs Brokerage, Domestic Distribution
and Warehousing
Warehouse Capacity:
3,750 sqm
Truck Box:
15 units with capacity 10 –15 CBM
Prime Mover:
10 units
Number of Chassis:
30 units

HEAVY CARGO & PROJECT SHIPMENT

We have a group company specialized in heavy cargo and project shipment, calls

ASIA PROJECT OFFSHORES LOGISTICS (APOL), Pte., Ltd.

18 Boon Lay Way,
#3 –93 Tradehub 21,
Singapore 609966
Phone:(+65) 8282 3993
Fax:(+65) 6220 6940
Established: 2009, Number of staff: 7
---